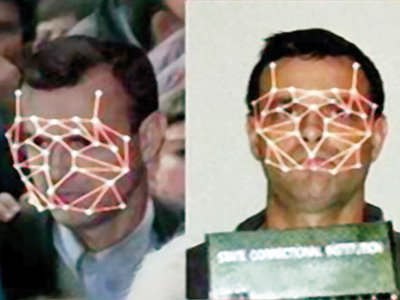 by blogger jmj

A forgery and theft case in Pierce County, Washington was solved with the use of facial recognition software being pilot tested by the Pierce County Sheriff's Department. An ATM surveillance image was compared to 16 years' worth of mug shots taken at the Pierce County Jail using Sagem Morpho Inc.'s new facial recognition software, MorphoFace. It took less than 15 minutes to find a match. The property crime case, that likely would have gotten cast to the side, ended with an arrest and conviction.

The software was used in Tampa, FL in 2001 during Super Bowl XXXV where scans of spectators identified 19 people with criminal records. However, none were wanted by authorities at the time. Airports looked into the use of facial recognition cameras as an added security measure after 9/11, but opponents raised concerns over privacy and argued the technology was intrusive and ineffective.

The difference with the Pierce County Sheriff's Department is that the software is being used as an investigative tool to identify likely suspects in a specific crime, not to just scan crowds looking for felons. The Sheriff's Department is also testing the software to gauge its accuracy.



To test the software's accuracy, Wilkins checks whether it can match current mug shots of repeat offenders currently in the jail with their previous booking photos.

He goes through the daily bookings and selects the men and women who have been locked up before. He takes their most recent mug shots and uploads them into MorphoFace.

The program is asked to find possible matches in a database of more than 479,000 mug shots of people booked into the jail, the Remann Hall juvenile jail and the Puyallup City Jail since 1992.

MorphoFace uses algorithms to measure the location of a person's eyes and builds a model of the face that is compared with the mug shots in the database.

"It will recognize unique patterns in each person's face," Hess said.


Tests of the software have shown that it spots whom it should about 90 percent of the time.