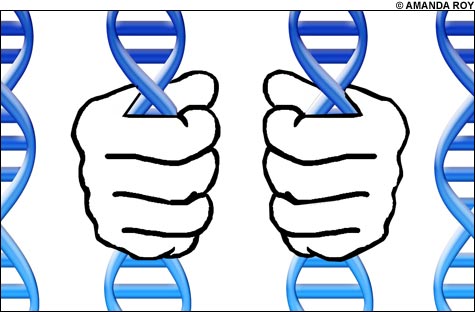 by blogger sjk
The controversial genetic analysis procedure called "familial searching" or "kinship searching" recently helped solve the "Grim Sleeper" case involving at least 10 serial murders dating back to 1985. "Familial searching" or "kinship searching" can compare DNA collected from a crime scene to DNA databases of both convicted felons and arrestees whose DNA partially matches the unidentified suspect. In the "Grim Sleeper" case, DNA taken from the suspect's son, who was arrested on a felony weapons charge, lead investigators to discover a partial DNA match to the crime scene DNA that was similar enough to show family relation. This type of DNA analysis can prove to be useful, but many believe it is an invasion of privacy. "Kinship searching" is widely used in England, allowing investigators to interview people whose DNA partially matches crime scene DNA, whether or not they are a suspect's family member or were involved with the crime. In the United States, CA is the only state to have a standard guideline model on how "kinship searching" can be used.



Some critics have contended that the technique might lead to an abuse of the system or, over time, to the disproportionate arrest of African-American males because they have a higher incarceration rate than men in other ethnic groups.

But the immediate concern is that kinship searches could produce a long list of convicted felons who are only partial matches to an unidentified suspect. The risk is that the police, while looking for a suspect's family members, might intrude on people who have not committed a crime.

. . . .

"Our concern is that the initial comparison that generates a list of partial matches does not narrow it down to a single suspect's likely family member," says Peter Bibring, a lawyer with the American Civil Liberties Union in Southern California. "It's a list and, at that point, the invasion of privacy depends on how the police go about their business."


What do you think: Should "familial searching" or "kinship searching" become a standard investigative tool in the United States, with each state allowed to develop their own procedural guidelines, or should a national law be created for this possibly invasive suspect search tactic?