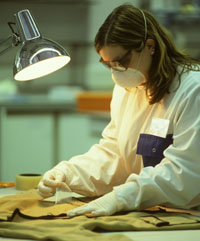 by blogger gmp

Advances in DNA testing continue to lead to the exoneration of convicted felons, many of whom would otherwise be imprisoned for the duration of their lives. This same technology has led to the "correct" arresting and imprisonment of the associated perpetrators, furthermore validating this means of suspect identification and prosecution. Some of the issues with this system involve the most commonly encountered reason for not pursuing all means of finding "reasonable doubt" - funding. Because of the distribution of wealth within states and the country, many people currently in jail could be freed if only their district had the finances.



After spending nearly 27 years buried in the vast Texas prison system for a crime he did not commit, Charles Chatman's first weeks of freedom have been overwhelming.

Each of the six rooms in his new apartment, including the bathroom, is larger than any of his previous cells. The gleaming entertainment system and sleek laptop from family, friends and attorneys might as well be hollow props on a movie set, because Chatman, 47, has little idea how to operate them — testimony to more than a generation lost behind bars.

Chatman was exonerated last month by DNA testing while serving a 99-year sentence for sexual assault. .


Hope remains that the government will intervene and assist more counties in research such technology prior to the conviction of any suspects, else more lawsuits against cities and counties may arise for wrongful arrest.